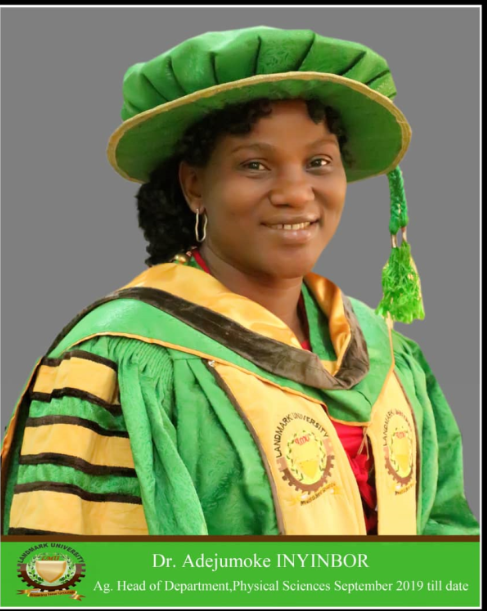 It is my pleasure to welcome you to Department of Physical Science. The Department houses four (4) academic Programmes: Geophysics, Industrial Chemistry, Physics and Mathematics. Geophysics currently runs only undergraduate studies while Industrial Chemistry, Physics and Mathematics run undergraduate and postgraduate studies.
Physical Sciences department is a community of active, dedicated and accomplished faculty with national and international repute and recognition for their contributions to teaching and research. The department engages in cutting-edge research in a variety of fields and has made great contribution to the development of science through research. We are passionate about mentoring students through their curriculum, engaging students in field and laboratory work. Our faculty in Industrial Chemistry, Physics and Mathematics partner across disciplines in research and service projects.
We continue to find ways to meet students' expectation and provide them with the quality attention they need and deserve. We set high expectations for our students and establish engaging curricula and learning environments. Students in the department are provided with exceptional problem-solving opportunities in course assignments, laboratory projects and internship experiences. We provide students with skills and experiences needed to succeed in a complex, technology-driven, global society.
What we offer
The Department offer students the latest knowledge, equipment and techniques used in science and technology disciplines. Our students are trained to positively compete and thrive well in any kind of environment. Many of our alumni and current students are exemplary role models of success in academic, leadership and service endeavors. We welcome prospective students to the department as new path is opened for their future.
Our Website
The Website of the Department of Physical Science entails significant information for both current and future students of the Department. In particular, detailed information is included about the Undergraduate and Postgraduate Programmes, detailed curriculum vitae of the Faculty and staff, as well as other useful and interesting information about the Department.